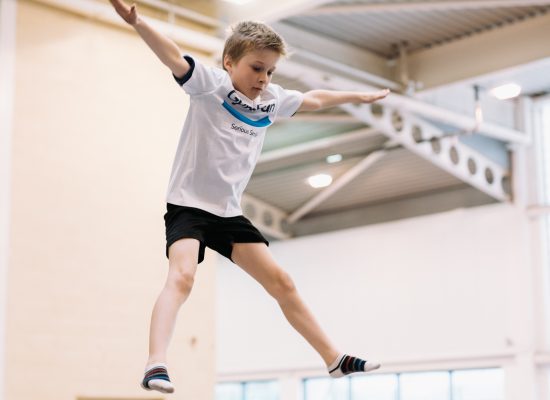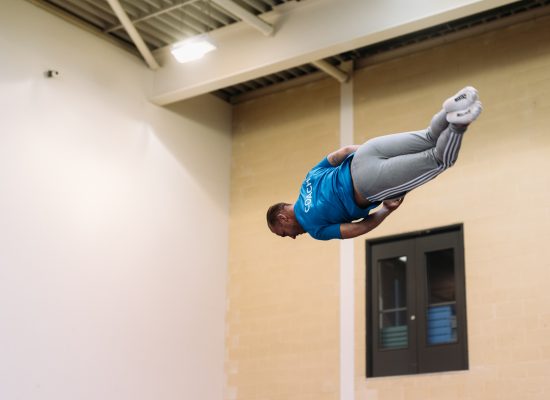 Trampolining
Why Trampolining?
Trampolining is a discipline of gymnatics that provides challenging classes for peole of all ages.  A wide range of skills from seat drops to double somersaults is taught. Whether you enjoy bouncing on your trampoline in the garden or want to find a thrilling way to get fit, you will enjoy the excitement of jumping higher than you ever jumped before. 
GymFun Trampolining will improve your flexibility, coordination and stamina. You will learn aerial skills and how to maintain control and rhythm. As you grow in confidence, your coaches will helped you build these skills into incredible aerial stunts! Classes focus on the safe development of aerial skills in a fun environment.
Watch this British Gymnastics Video to learn more about this exciting sport.
Bounce at GymFun

We provide specialist Trampolining sessions within our 'Learn GymFun' and 'Perform GymFun' classes.  These classes are suitable for keen 'bouncers' who are P3+ .  Classes take place on Tuesday afternoons.  See our timetable for more information. These classes are managed and delivered by the very  experienced Ann Marie Dalton.  Ann Marie is  currently Gymnastics Ireland's Trampolining Senior Squad Coach and has coaches many of Ireland top international trampolinists.

If you are interested in Joining one of our trampolining classes please visit our How to Join page.
For further information please contact Ann Marie by email annmariedalton@hotmail.co.uk.